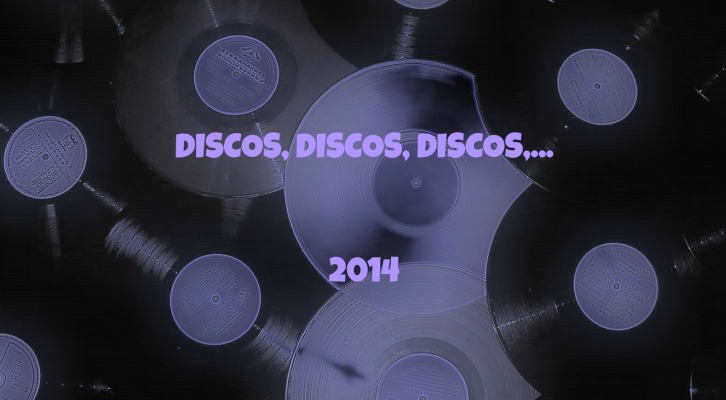 Desde Makma no queremos que pase el 2014 sin dejar de hacer una serie de recomendaciones discográficas por parte de quien ha estado durante todo el año escribiendo y publicando sobre el condumio musical. Una cosecha excelente la de esta añada, por cantidad y calidad. Dentro de un orden muy subjetivo que tiene que ver con las sensaciones y emociones recibidas, ahí van 40 recomendaciones musicales del 2014:
1 – CRACKER – Berkeley to Bakersfield
Grandioso, glorioso viaje californiano. (Santa Cruz)
2 – REIGNING SOUND – Shattered
Auténtica delicatessen con sabor sixtie. (Memphis)
3 – OLD 97'S – Most messed up
Country alternativo y powerpop energético sin sosiego. (Dallas)
 4 – THE WAR ON DRUGS – Lost in the Dream
Exquisitez diferente, épica sofisticada y soft rock. (Philadelphia)
5 – CHUCK PROPHET – Night surfer
En permanente estado de gracia el Profeta nos guía (San Francisco).
6 – THE MEN – Tomorrow's Hits
Punk, psicodelia y raíces de un artefacto que no nos abandonará (Brooklyn).
7 – DEAN WAREHAM – Dean Wareham
Orfebrería sideral de sensaciones velvéticas (Los Angeles).
8 – J MASCIS – Tied to a star
Nueva apuesta acústica de un gigante del rock alternativo (Massachusetts).
9 – WILKO JOHNSON & ROGER DALTREY – Going back home
Lavado de cara a la trayectoria de un grande del pub-rock (Canvey Island).
10 – SENIOR I EL COR BRUTAL – El poder del voler
Emoción y actitud políticamente incorrecta. Collonut. (Valencia).
11 – THE ORWELLS – Disgraceland
Flower-punk juvenil de efectos regenero-neuronales (Illinois).
12 – YOU, ME & APOLLO – Sweet honey
Alejado de convencionalismos, la materia prima es el soul (Fort Collins).
13 – NUDE BEACH – 77
Powerpop desinhibido e imaginativo (Pensilvania).
14 – THE NEW MENDICANTS – Into the lime
Melodías y armonías modélicas (Toronto).
15 – NEIL YOUNG – Storytone
El más grande sorprende con un sentido disco orquestal (Toronto).
16 – WOODS – With light and with love
Melodías luminosas y psicodelia muy elaborada (Brooklyn).
17 – THE FAKEBAND – Shining of everyone
Powerpop y prioridad a las melodías de origen americano (Getxo).
18 – ROBYN HITCHCOCK – The man upstairs
Incombustible trovador atípico y underground (Londres).
19 – THE BASEBALL PROJECT – 3rd
Supergrupo de leyendas de rock americano unidos por el beisbol (New York).
20 – THE MASTERSONS – Good luck charm
Country melódico, un buen edredón para el crudo invierno (New York).
21 – BECK – Morning Phase
Inclasificable talento más acústico de lo habitual (Beverly Hills).
22 – BEN WATT – Hendra
Exquisito retorno del antiguo líder de Everything But The Girl (Londres).
23 – THE CLEANERS FROM VENUS – Return to bohemia
Martin Newell y su banda vuelven a sonar frescos y modernos (Essex).
24 – BENJAMIN BOOKER – Benjamin Booker
Debut entre el garage y el blues salvaje, se hablará de esta promesa. (New Orleans).
25 – JACK WHITE – Lazaretto
Cóctel de funk-punk, country y rhythm&blues, audaz como pocos  (Detroit).
26 – STEVE GUNN – Way out weather
Entre el folk, el blues y la psicodelia, puede resultar hipnótico (Brooklyn).
27 – LUCINDA WILLIAMS – Down where the spirit meets the bone
Otro más en la honesta trayectoria de una gran dama del rock (Los Angeles).
28 – NICK WATERHOUSE – Holly
El soul y el rhythm&blues suenan modernos y refrescantes (Los Angeles).
29 – DAVID KILGOUR & THE HEAVY EIGHTS – End times undone
Ajeno a modas o estereotipos, jangle pop elaborado y fresco (Nueva Zelanda).
30 – BAP KENNEDY – Let's start again
Orfebrería irlandesa preciosista (Belfast).
31 – JOSEPH ARTHUR – Lou
Enorme homenaje acústico al gran maestro Lou Reed (Brooklyn).
32 – THURSTON MOORE – The best day
Suenan guitarras. La leyenda del líder de los Sonic Youth continúa (Florida).
33 – PARQUET COURTS – Sunbathing Animal
Creativos pildorazos de punk-rock y energía velvética (Brooklyn).
34 – EELS – The cautionary tales of Marl Oliver Everett
Para oir y escuchar con tranquilidad y sosiego (Los Angeles).
35 – HISS GOLDEN MESSENGER – Lateness of dancers
Música ensoñadora de raíces americanas (Carolina del Norte).
36 – BANTASTIC FAND – Strong enough to refuse
Melodías artesanales cercanas con sabor americano (Cartagena-Almería)
37 – REAL ESTATE – Atlas
Ensoñadoras melodías repletas de matices y texturas (Nueva Jersey).
38 – OSCAR AVENDAÑO Y LOS PROFESIONALES – Demasiado oro
Honesta propuesta de sensaciones stonianas por parte del actual bajista de Siniestro Total. (Vigo)
39 – CAMPER VAN BEETHOVEN – El camino real
Cóctel campestre alternative de pop, country, blues y folklore (Redlands).
40 – THE FLESHTONES – Wheel of talent
Incombustible descaro y vigor del típico cóctel marca de la casa (New York).
¡Feliz 2015 a todos los lectores y amigos de Makma!
JJ Mestre
   * Ampliación y adaptación para Makma del listado publicado en Espacio Woody/Jagger.
Comentarista e informador musical y cinéfilo.
&Uacuteltimos artículos de Juanjo Mestre