#MAKMAMúsica #MAKMAOpinión | MAKMA ISSUE #02
Juanjo Mestre
MAKMA, Revista de Artes Visuales y Cultura Contemporánea, 2019
Lunes 3 de agosto de 2020
Sin querer, por una de esas extrañas casualidades de la vida, y a pesar de que intento alejarme a toda costa y no rozarme lo más mínimo con toda esa gran bazofia musical que invade a nuestros jóvenes (o no tan jóvenes) adolescentes y preadolescentes, acaba de llegar a mis ojos y a mis oídos la letra de la canción y el último videoclip de esa abominable y repugnante hembra que, por cantar estas cosas (y por algunas cosas más), me parece Leticia Sabater, en cuyo currículum también figura ser candidata a liderar la mayor cantidad de liposucciones y de operaciones de estética en España, y de la que siempre recordaré una noticia que me enviaron hace dos años, que me impactó profundamente: la reproducción de su himen para volver a ser virgen, casi a los 50 años de edad. Indudablemente, la estupidez y la necedad humana no conoce límites y, en ello, también hay líderes.
Al grano. La vergonzosa y aberrante canción de marras se titula '18 centímetros, papi' y me acaban de confirmar que es un superventas, un asegurado hit para este verano, detalle que dificulta aún más la dificilísima labor de progenitores y educadores. La letra no tiene desperdicio; entre sus destacables versos, un ejemplo: "eres mi microondas, ya estoy caliente".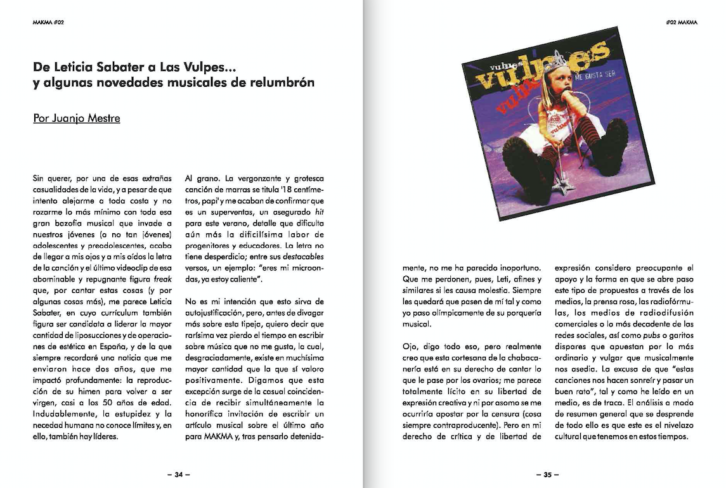 No es mi intención que esto sirva de autojustificación, pero, antes de divagar más sobre esta tipeja, quiero decir que rarísima vez pierdo el tiempo en escribir sobre música que no me gusta, la cual, desgraciadamente, existe en muchísima mayor cantidad que la que sí valoro positivamente. Digamos que esta excepción surge de la casual coincidencia de recibir simultáneamente la honorífica invitación de escribir un artículo musical sobre el último año para la revista MAKMA y, tras pensarlo detenidamente, no me ha parecido inoportuno. Que me perdonen, pues, Leti, afines y similares si les causa molestia. Siempre les quedará que pasen de mí tal y como yo paso olímpicamente de su porquería musical.
Ojo, digo todo eso, pero realmente creo que esta cortesana de la chabacanería está en su derecho de cantar lo que le pase por los ovarios; me parece totalmente lícito en su libertad de expresión creativa y ni por asomo se me ocurriría apostar por la censura (cosa siempre contraproducente). Pero en mi derecho de crítica y de libertad de expresión considero preocupante el apoyo y la forma en que se abre paso este tipo de propuestas a través de los medios, la prensa rosa, las radiofórmulas, los medios de radiodifusión comerciales o lo más decadente de las redes sociales, así como pubs o garitos dispares que apuestan por lo más ordinario y vulgar que musicalmente nos asedia. La excusa de que "estas canciones nos hacen sonreír y pasar un buen rato", tal y como he leído en un medio, es de traca. El análisis a modo de resumen general que se desprende de todo ello es que este es el nivelazo cultural que tenemos en estos tiempos.
Me vienen ahora a la memoria aquellas adorables vascas que en los 80 entonaban aquello de 'Me gusta ser una zorra'. Con una peculiar y punkroquera adaptación del 'I wanna be your dog', de Iggy Pop y los Stooges, ruborizaron y enojaron a la sociedad conservadora y biempensante. Sin embargo, y comparativamente hablando respecto a Leticia Sabater, considero que los versos de las Vulpes contenían lírica de auténtica actitud rocanrrolera y su música era acorde a la evolución del buen rock de aquellos tiempos.
Y ahora, después de todo el precedente circunloquio, es el momento de volver a refugiarme en mi cueva, reivindicando la subsistencia del buen rock, aunque solamente sea para minorías musicales selectas a las que recomendar encarecidamente una serie de nombres. Desde el último verano hasta el día de la fecha, un servidor ha disfrutado de lo lindo con novedades musicales de nombres que nunca fallan, como J Mascis, Charles Lloyd & Lucinda Williams, Robert Forster, Glenn Cardier, Son Volt… de retornos como The Long Ryders, The Dream Syndicate… de promesas y valores en alza como Sarah Shook, Steve Gunn, The Maureens, Yola, The Roves, Nick Eng, Luther Russell, Zebra Hunt, The Golden Rail, Daddy Long Legs…
Por otra parte, fue un enorme placer asistir a conciertos poco abarrotados, como los de Guttercats, John Paul Keith, Parson Red Heads… Ah, y, por supuesto, no ha faltado material español exquisito, como Carolina Otero & Mike Grau, Oscar Briz, BB Sin Sed, Rafael Berrio, Riverboy, Mendizábal, Exfan, Los Eternos, Los Fusiles… Ellos y muchos más del pasado o presente me han acompañado, incluidas las Vulpess. Con la Sabater ya he tenido suficiente, una y no más, Santo Tomás.
Este artículo fue publicado en MAKMA ISSUE #02, revista especial en papel con motivo del sexto aniversario de MAKMA, Revista de Artes Visuales y Cultura Contemporánea, en junio de 2019.