Datura4
Martes 8 de Octubre del 2019
22:00 horas
Loco Club
C/Erudito Orellana nº 12 de València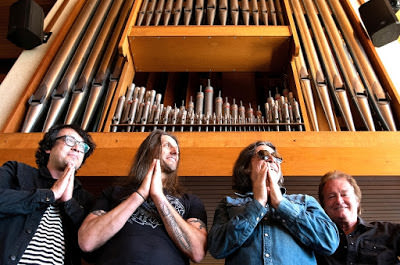 En el 2015 nos sorprendió toda una institución rocanrolera australiana como Dom Mariani (conocido por su pasado con DomNicks, Summer Suns, Stoneage Hearts, Someloves, The Majestic Kelp, y muy especialmente con The Stems, DM3 o en solitario) con otro nuevo proyecto musical llamado Datura4. Su debut se tituló «Demon blues», un auténtico y diabólico manjar de hard-rock setentero, powerpop, blues progresivo y psicodelia.
Un año después volvieron a demostrar su poderío en una línea similar con «Hairy mountain». Y ha sido durante el año en curso cuando han completado una gran trilogía con «Blessed is the boogie» donde han presentado algún cambio en la formación inicial, repitiendo Stu Loasby (Jack and The Beanstalk, The Majestic Kelp,…) al bajo, y Warren Hall (The Drones, The Volcanics,…) a la batería, e incorporándose Bob Patient (teclista) y Joe Grech a la guitarra en sustitución de Greg Hitchcock.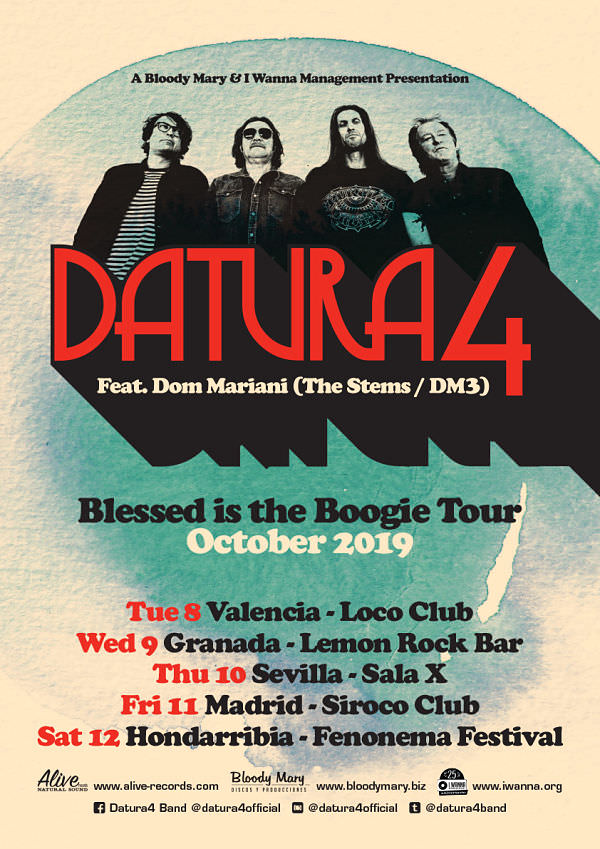 Este último disco es un trabajo capaz de conectar detalles clásicos de nombres como Led Zeppelin, ZZ Top, Canned Heat, The Saints… Será presentado en cinco ciudades (València, Granada, Sevilla Madrid y Hondarribia) durante la primera gira de esta superbanda por España. Muy altamente recomendable.
Juanjo Mestre