Galería Luis Adelantado. Valencia
Inauguración: miércoles 30 de enero, a las 20h. 
Hasta el 22 de marzo de 2013
Esta segunda exposición individual del artista mexicano Bayrol Jiménez (Oaxaca, México 1984) en la Galería Luis Adelantado, titulada «LandEscape», es un juego de palabras que conjuga la idea de paisaje y de fuga, apuntando así los dos conceptos claves de la exposición. El proyecto, busca generar tangentes que muestren un paisaje híbrido en el que las referencias culturales, los viajes del propio artista y su imaginario se mezclan con el interés por un paisaje social y urbano, con los que construir o reconstruir realidades más amplias.
Para Jiménez, el dibujo, de donde surge toda su obra, no tiene límites espaciales. No es un papel acotado, es la concatenación de varias secuencias, la superposición, la explosión que contamina paredes y suelos y que en última instancia, genera una instalación global en la que la presencia de objetos tridimensionales – que nos recuerda a las arquitecturas efímeras de la ciudad – participan a su vez de esa idea de assemblage contemporáneo.
Parte del imaginario de sus obras, viene dado por la idea de tránsito, de recorrido; deambular por la ciudad a la manera de los Situacionistas pero, un recorrido esta vez, en el que la atención por el detalle será primordial. Como el mismo nos cuenta: «Me interesa el encuentro azaroso con distintos objetos, huellas urbanas que tienen un carácter específico y que en cuya existencia encuentro aspectos que los hacen interesantes, tales como: la forma en la que están dispuestos en el espacio, el color, la materia, su composición, las imágenes que contienen, su cualidad pictórica…» También esa búsqueda se refleja en su vida, a caballo entre México y Francia.
Todo ello, le proporciona gran cantidad de imágenes y estímulos que junta y entremezcla creando un nuevo y alucinado mundo que se percibe como precario pero a la vez extremadamente hiperreal. En una misma obra podemos encontrar referencias a la cultura popular, al arte Povera, al ready-made pero también a los slogans publicitarios, la imaginería underground, el universo del cómic y de los mass-media…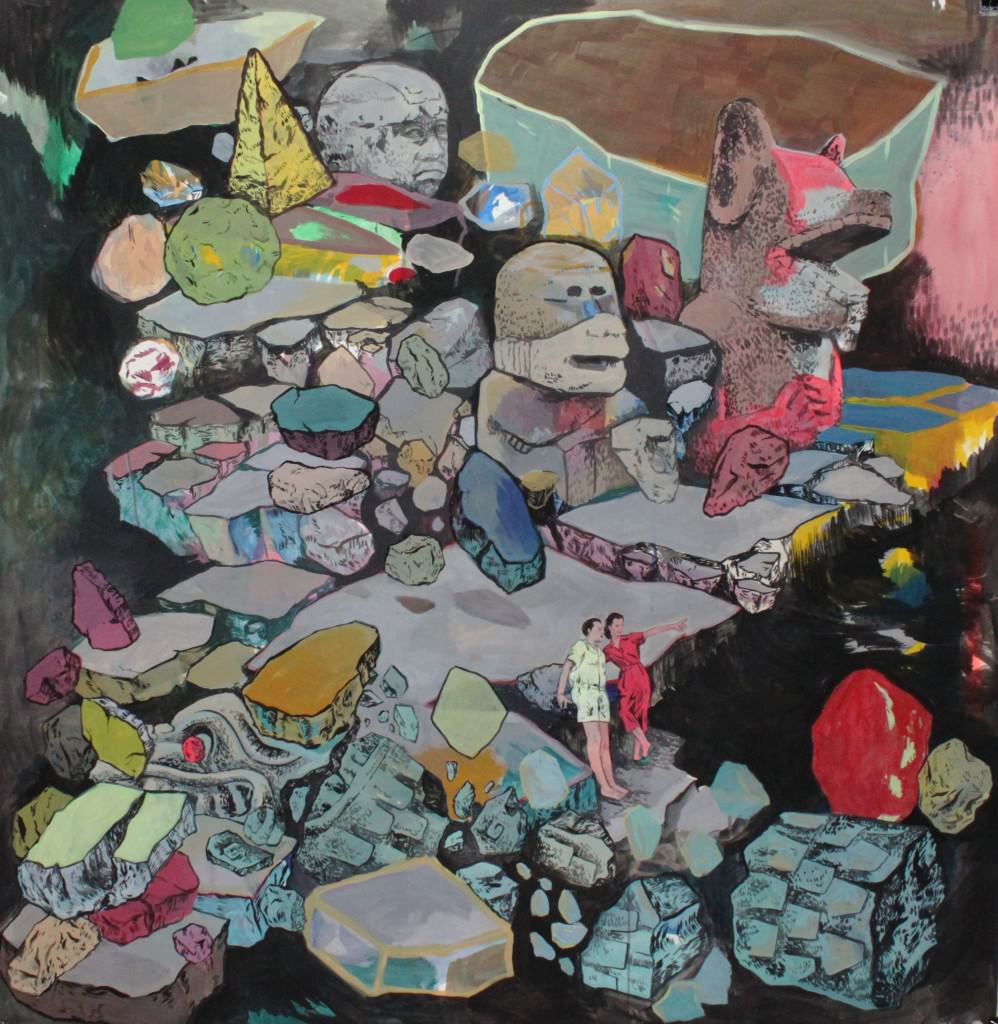 A la hora de la ejecución final de las obras, hay una idea básica de aglutinar, en la que involucra la improvisación, es la parte más lúdica. Todo lo recolectado; ideas, imágenes y objetos físicos convive en un verdadero collage tridimensional. El proceso implica una actividad experimental y azarosa, como describe André Bretón, en la que Jiménez se identifica totalmente: «…en esa actividad, lo que buscamos antes que nada es divertirse y es después, en sus consecuencias, cuando descubrimos la riqueza que le aporta al conocimiento.»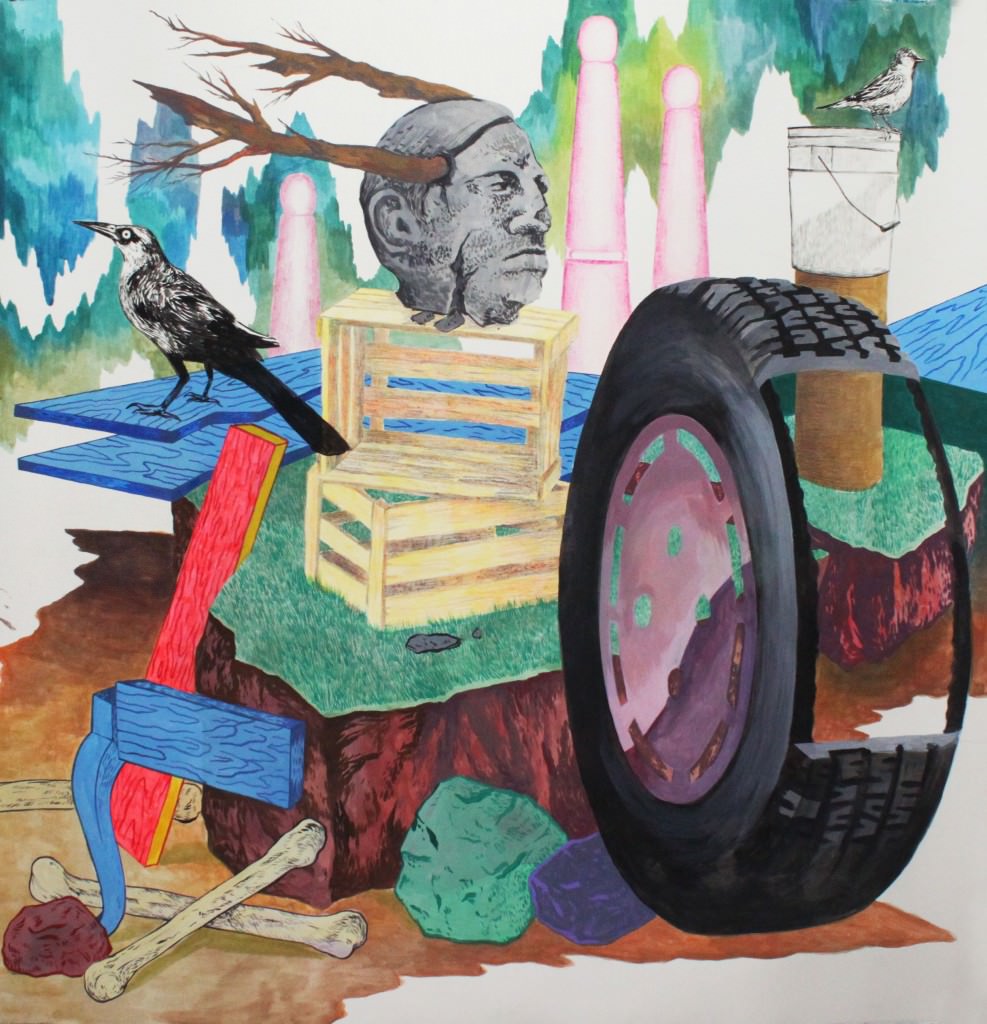 Bayrol Jiménez realizó estudios en "La Esmeralda" (México) y posteriormente, en la Ecole dArt Villa Arson en Francia. De entre sus exposiciones individuales destacan: «The voice of…Onomatopee» en Holanda (2012); «The Roads of Devotion», Galerie Dukan Hourdequin, París (2012); «Historias Salvajes», Luis Adelantado Mexico (2010) y «Bayrol Jiménez», Luis Adelantado Valencia (2008). Últimamente ha expuesto de manera colectiva en Resisting the Present, Musee dArt Moderne de la Ville de Paris y Museo Amparo, Puebla (2012); «Tell me your dreams and your nightmares», M.D.A, Cagnes (2010) «54 Salon d´Art Contemporain de Montrouge», París (2009).
—–
LandEscape
BAYROL JIMÉNEZ
From January 30th until March 22nd
Opening Wednesday January 30th at 08.00 PM
The gallery Luis Adelantado Valencia is pleased to present the second solo exhibition by Mexican artist Bayrol Jimenez (Oaxaca, Mexico 1984) entitled «LandEscape», a play with words, which combines the idea of landscape and vanishing, thus emphasizing the two key concepts of the show. The project seeks to generate tangents showing a hybrid landscape in which cultural references, the artist's own travel and his imagination mixes with interest in social and urban landscape, with which to build or rebuild broader realities.
For Jiménez, drawing, from which arises all his work, has no spatial limits. It's not a limited paper, it's the concatenation of several sequences, overlapping, the explosion that pollutes walls and floors and ultimately generates a global installation in which the presence of three-dimensional objects – which reminds us of the ephemeral architectures from the city – part turn that idea of contemporary assemblage.
Part of the imagery in his work, is from the idea of transit, to travel, to wander the city in the manner of the Situationists but this time a tour, in which attention to detail is paramount. As he himself tells us: «I'm interested in the chance encounter with different objects, urban fingerprints that have a specific character and in whose existence I find aspects that makes them interesting, such as: the way they are arranged in space, the color, the material, the composition, the images they contain, their pictorial quality … » A search that is also reflected in his own life, somewhere between Mexico and France. All this provides him with lots of images and stimuli that mixes together creating a stunning new world, perceived as precarious but yet extremely hyper-real. In the same work we find references to popular culture, arte Povera, the «ready-made» but also the advertising slogans, underground imagery, the universe of comics and the mass media…. At the final execution of the works, there is a basic idea of binding, which involves improvisation, is the more ludic part. All that has been collected; ideas, images and physical objects coexist in a true three-dimensional collage. The process involves an experimental and risky activity, as described by André Breton, in which Jiménez finds himself totally identified «… in that activity, what we want above all is to have fun and it is afterwards, in the consequences, when we discover the wealth it contributes to knowledge. »
Bayrol Jiménez first studied at "La Esmeralda" (Mexico) and later on at Ecole d'Art Villa Arson in France. Among his solo shows are well worth mentioning: «The voice of…Onomatopee» Holand (2012); «The Roads of Devotion», Galerie Dukan Hourdequin, Paris (2012); «Historias Salvajes», Luis Adelantado Mexico (2010) y «Bayrol Jiménez», Luis Adelantado Valencia (2008). Lately he has been part of group shows at Resisting the Present, Musee d'Art Moderne de la Ville de Paris and Museo Amparo, Puebla (2012); «Tell me your dreams and your nightmares», M.D.A, Cagnes (2010) «54 Salon d'Art Contemporain de Montrouge», Paris (2009).

Revista de Artes Visuales y Cultura Contemporánea.

&Uacuteltimos artículos de MAKMA