Dan Baird & Homemade Sin
Viernes 14 de Septiembre a partir 23:00 horas
Loco Club
Calle Erudito Orellana nº 12 de Valencia
Entradas 15 € (compra tu entrada en este link)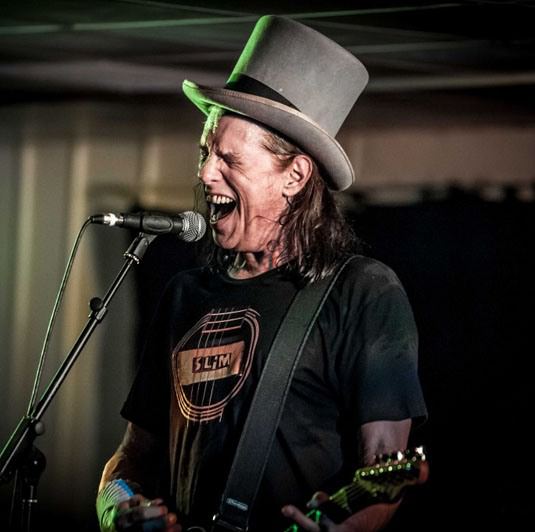 Hoy quiero recomendar a uno de los tipos más grandes que hay en el mundillo del rock 'n roll por talento, calidad y actitud. Con sus 64 años es además un superviviente de mucha dignidad a través de las décadas.
Para ello resulta inevitable recordar sus primeros tiempos como vocalista, compositor y guitarrista de los Georgia Satellites, la banda americana de Atlanta que durante la década de los 80's enarboló con grandeza y pundonor un cóctel extraordinario de rock sureño, boogie-rock y hard-rock. Seguramente muchos conocerán su gran hit popular «Keep your hands to yourself» pero no tantos aquel MiniLp de debut del 85 titulado «Keep the faith» o la fundamental trilogía de álbumes entre el 86 y el 89 (homónimo, «Open all night», «In the land of salvation and sin») donde el desperdicio brillaba por su ausencia.
Tras la separación del grupo grabaría en la década noventera los que considero sus mejores discos en solitario, «Love songs for the hearing impaired» y, muy especialmente, el fabuloso «Buffalo nickel». Ya en el S.XXI y concretamente en la década 00 tuvo como acompañantes a The Sofa Kings mientras paralelamente formaba parte de otra estimable aventura musical con los Yayhoos o, posteriormente, con The Bluefields. Pero en medio de tantos proyectos es seguramente con Homemade Sin, la banda formada actualmente por Mauro Magellán a la batería, Warner E.Hodges a la guitarra y Sean Savacool al bajo, con la que más ha encontrado sintonía y perdurabilidad desde que en el 2005 publicasen «Feels so good».
Dan Baird lleva un motor de puro rock 'n roll incrustado en su cuerpo, motivo por el que no ha parado en toda su trayectoria salvo el pasado año en que una leucemia lo apartaba de los escenarios, hecho que se producía casi inmediatamente después de la publicación de "Rollercoaster", "SoLow" y del directo "The Red Wristband Special" en Kendal (Inglaterra). Por suerte lo ha superado y ahora vuelve para presentar otro trabajo, "Screamer" que, como no podía ser de otro modo, supura una vez más esa fiereza y esa esencia rocanrolera que le caracteriza.
Cuatro posibilidades hay de verle con Homemade Sin en esta gira, el 12 de Septiembre en el Museo Marítimo de Bilbao, el 13 de Septiembre en la Sala El Sol de Madrid, el 14 de Septiembre en el Loco Club de Valencia y el 15 de Septiembre en la Sala Razzmatazz de Barcelona. Entre los muchos conciertos que el que suscribe ha podido ver en esta vida están los de Dan Baird en lo más alto del ranking. Por eso creo que todo amante del buen rock 'n roll debería hacer lo posible por no perderse a estos fenómenos.
Juanjo Mestre.